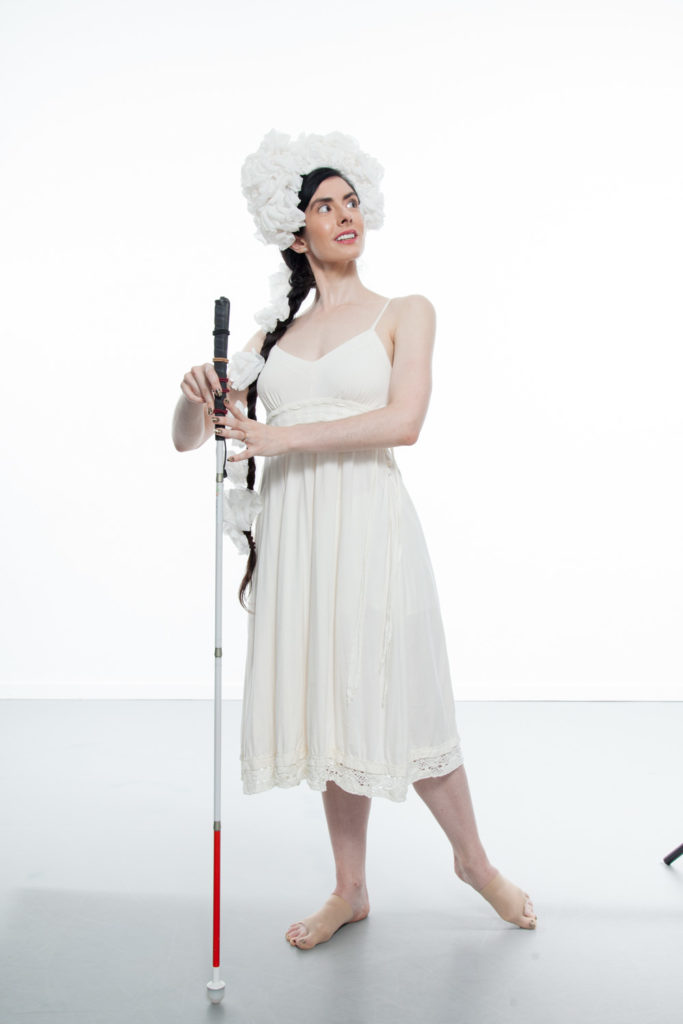 Krishna Christine Washburn has performed with many leading dance companies including Jill Sigman's thinkdance, Infinity Dance Theater, Heidi Latsky Dance, Marked Dance Project, and LEIMAY.
Krishna has collaborated with many independent choreographers, including Patrice Miller, iele paloumpis, Perel, Vangeline, Micaela Mamede, Apollonia Hoelzer, and most notably with A. I. Merino, who especially created her signature role, Countess Erzszebet Bathory, and with whom she founded the artistic collective Historical Performances. Krishna boasts several ongoing artistic collaborations, including work with wearables artist Ntilit (Natalia Roumelioti). Krishna is the Artistic Director of The Dark Room, a multi-disciplinary project with fellow visually impaired dancer, Kayla Hamilton. 

Dark Room Ballet is Krishna's specialized introductory dance curriculum for blind and visually impaired dancers. It is a toolbox course that teaches specific skills, including finding balance without sight, maintaining orientation with auditory and foot sensitivity, and self-correction with internal alignment. Dark Room Ballet is based in both Royal Academy of Dance ballet training and Butoh. Krishna holds a Master's of Education from Hunter College and special certification through the American College of Sports Medicine, and has been a movement teacher for blind and visually impaired people of all ages for many years. Dark Room Ballet students can expect to learn transferable dance vocabulary and technique, as well as performance skills and musicality.