We're live! Access a screen reader friendly version of our program notes here.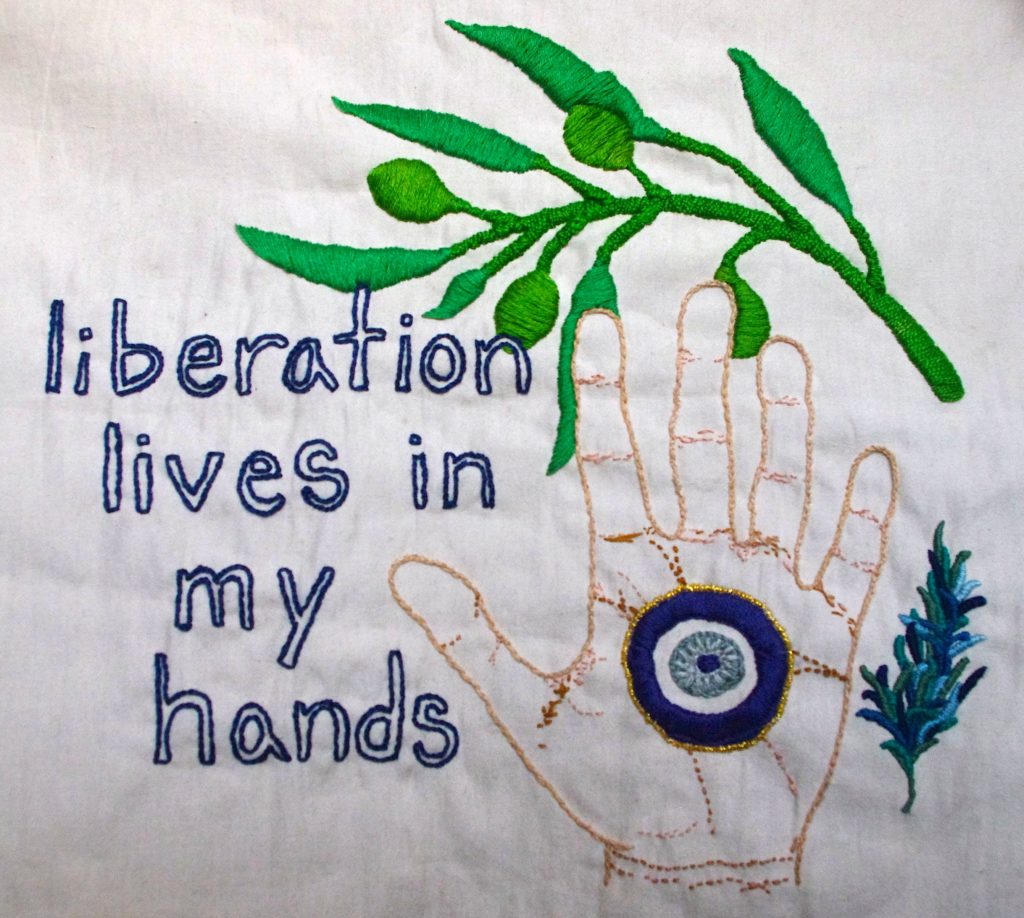 In place of catastrophe, a clear night sky is a live, multidisciplinary dance performance, which decenters sight as the primary mode of experiencing dance. The piece will premiere at Danspace Project in May 2022, after a two-year postponement due to COVID-19. Centering the needs of blind, visually impaired, immunocompromised and disabled cast and community, director iele paloumpis and their collaborators have transformed the piece into a hybrid live and virtual experience. We are excited to finally share this labor of love.
Listen to director iele paloumpis and collaborators Alejandra Ospina, Seta Morton, and Krishna Washburn share about their unique practice of creating poetic audio description for dance improvisation on "The Interpreter," BBC Radio 4 Short Cuts series. You can also read the transcript here.
---
What vitality allowed our ancestors to survive generations of trauma, and what wisdoms have been passed down to us? What embodied magics are all our own? In place of catastrophe, a clear night sky traverses these questions through voice and movement, exploring transgenerational resilience within a disability justice framework. Incorporating vocalization, audio  description,  and tactile set design, iele paloumpis creates an immersive,  multi-sensory  landscape that de-centers sight as a primary mode of experiencing dance and invites audience members to inhabit nuanced forms of perception.
Sound, myth, folklore, and personal and familial history are shared as a call to listen, wander, and thread through a patchwork of memories that are both transmitted and transmuted. A multi-disciplinary cast of artists moves through the work with varied relationships to disability, race, class, gender and sexuality, each embodying a unique history. Ancestral waters troubled by war, genocide, and displacement form the connective tissues of our nervous systems – but this is not all that we are. Through deep listening, trust, and intimacy, the cast builds a rich relationship between audio describer and mover, creating new means of witnessing that alchemize inherited wounds into collective care. Challenging both what is perceptible in dance, and what can be known of our own histories, the piece invites visually impaired audience members into the poetics of movement and encourages all of us to expand our understanding of what it means to be "witnessed."
Join our mailing list!
Receive updates on our upcoming performance at Danspace Project and our other work around audio description and dance
Directed by iele paloumpis, in co-creation with the cast.

Collaborators: Marielys Burgos-Meléndez, Seta Morton, Alejandra Ospina, iele paloumpis, M. Rodriguez, Ogemdi Ude, Krishna Washburn, Adrien Lorenzo Weibgen, and Marýa Wethers.

Set Designers: Nora Chavooshian and iele paloumpis

Guest Vocalists: Joanna Groom, CJ Holm, Rae Pérez and Samita Sinha
Funding Credits:

This project is made possible, in part, by the Danspace Project Commissioning Initiative and Production Residency Program funded by the Lambent Foundation Fund of the Tides Foundation and the Andrew W. Mellon Foundation; with additional support through a 2019 Movement Research Residency, funded by the Scherman Foundation's Katharine S. and Axel G. Rosin Fund; and is sponsored, in part, by the Greater New York Arts Development Fund of the New York City Department of Cultural Affairs, administered by Brooklyn Arts Council (BAC); as well as Dance/NYC's Disability. Dance. Artistry. Dance and Social Justice Fellowship Program, made possible by the generous support of the New York City Department of Cultural Affairs CreateNYC Disability Forward Fund and the Shelley & Donald Rubin Foundation, and with additional support from the New York Community Trust. Creative developmental residencies at The Chocolate Factory Theater, Queer|Art|Pride at Abrons Arts Center, AUNTS Residency at Mount Tremper Arts, and the Zil Culture Center in Moscow through the GPS/Global Practice Sharing program of Movement Research with funding from the Trust for Mutual Understanding, have also contributed to this ongoing research.